Fire Safety Construction is utilizing smart phone portability and cloud database flexibility to audit existing fire safety measures in its projects, helping us deliver more efficient and cost-effective reports to our clients.
Currently our online database includes auditing abilities for:
AS1851 – fire stopping & dampers.
AS1851 & AS1905.1 – fire doors new & existing.
Labour timesheets.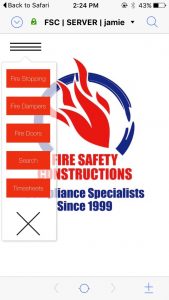 How does onsite data entry' help us deliver more efficient, competitive and cost-effective reports to our clients
Efficiency – It gives the ability to accurately record site specific information as it eventuates. Real time, one time only – data entry audits and reports made easy!
Cost – Large amounts of data can hinder work if not managed properly. A data entry system that offers easy and manageable data is crucial in business operations. FSC database uses quality photographic documentation and a logical referencing system to efficiently record and access data – Minimising office time and allowing cost savings to be passed onto our clients.
Competitive edge – The bespoke cloud database allows for accurate and real time information to be uploaded online fast and accessed by all FSC staff. This means an on site audit can take place on a property to identify the scope of works and our estimators can immediately start putting together a quote for the required works. Talk about instant feedback!
Our feature project is 62-72 Queen St, Auburn Central where over 3000 existing elements within the building were audited by the FSC team. Here is a typical example of the data fields our cloud database has:
A photo of the element under scrutiny,
Location, inspection date, component description/type, size,
Fire safety measure to take place (where relevant) and
Compliance (pass or fail).
Data recorded is presented to client in report format, showing photographic documentation of a comprehensive diagnostic audit. Each data entry has a specific reference number which corresponds with to a map within report. The data presented at 199 Pyrmont Street, gave a record of the buildings service penetrations and relevant to AS1815, which is applicable to the routine service procedures for fire protection systems and fire equipment. This standard is also intended to provide a systematic and uniform basis for building owners and managers, regulators, contractors, insurers and others to implement and administer inspection, test and maintenance applicable to fire protection systems and equipment – our cloud database is an effective tool to manage the requirements of AS1815.